Attention: The UniCard collection date on 02.06.2022 is unfortunately cancelled!!!
We are back for you on Tuesday, 07.06.!!!
Pick up your card at 12.10.2021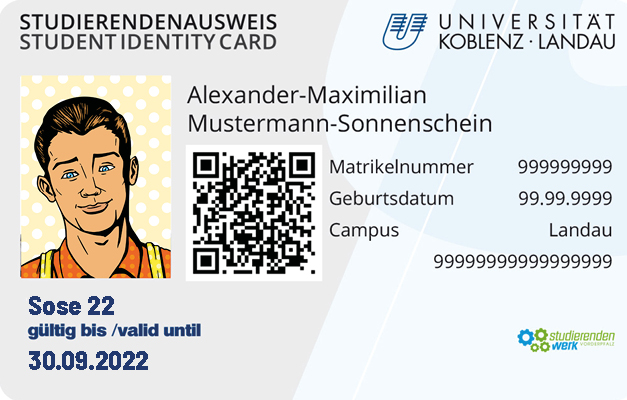 Welcome to the university and to us in the Southern Palatinate!The Studierendenwerk Vorderpfalz issues the UniCard - your student ID card - for the University of Landau. You can use it to register for exams or eat in the refectory, for example.
Issue times of the UniCardFrom 19 to 21.04.2022 - collection at the university
19.04. 10:00 - 12:00 hrs
20.04. 10:00 - 12:00 hrs
21.04. 10:00 a.m. - 12:00 p.m.
You can get your ticket here: in the atrium of the university (Rondell) - Fortstraße 7.
From 26.04.2022 - pick-up at Xylanderstraße 17
.
Pick-up times for the UniCard
always Tuesdays - 11:00 a.m. - 1:00 p.m.
always Thursdays - 11:00 a.m. - 1:00 p.m.
You can get your card here:
Studierendenwerk Vorderpfalz
Xylanderstraße 17 / Infopoint
76829 Landau
Tel.: +49 (0)6341 9179-0
E-mail: info@stw-vp.de)
Please pay attention to the signs. Please come alone to the collection.
What do I need to bring to pick up my UniCard?
You must bring and show the following:
Your identity card or passport or an official photo document (e.g. your residence permit). Other forms of ID will not work.
If you want to pick up a UniCard for someone else by proxy, you must also bring the signed

Vollmacht zur Abholung der UniCard

and a copy of the identity card of the person for whom you want to pick up the UniCard.
Please note that for legal reasons we are not allowed to issue a UniCard without these documents.
You are not sure if your UniCard has already been produced?
If you are unsure whether your card has already been produced and don't want to make a pointless journey to us, then you can send us an email to
info@stw-vp.de
. We will then inform you whether it is already ready.
Achtung: Der UniCard-Abholtermin am 02.06.2022 fällt leider aus!!!
Wir sind am Dienstag, den 07.06. wieder für euch da!!!