Corona information for our tenants!
Here you will find answers to frequently asked questions about Corona.
If you are missing an answer, please let us know and send us a mail:
wohnen@stw-vp.de
.
More info
here
.
Please also pay attention to the notices in the dormitory and the most important thing: Stay healthy!
Consultation hours exclusively by mail or telephone
Please note: until further notice we have discontinued personal consultation hours (e.g. with the caretaker). You can reach us at the times communicated on the dormitory pages by mail and telephone.
Living at your place of study - affordable, comfortable, and close to the university.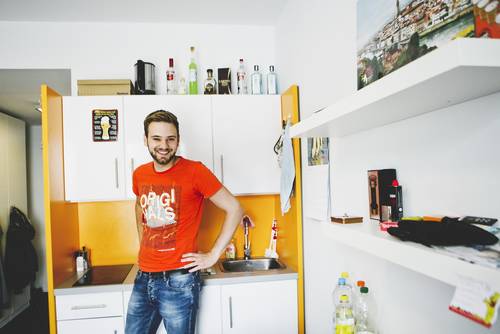 More than 900 students find affordable accommodation in our residences in Landau, Ludwigshafen, Worms and Germersheim. Each of our student residences has a housekeeper, who takes care of any tenant concerns and arranges all necessary repairs and maintenance work.In addition, we have our WoTus (student tutor), who work and live in our dormitories, and are available to answer any questions their new flatmates may have about living there.Details on furnishings, floor plans, photos, application deadlines and modalities, can be found at the individual study locations. There you can also apply directly in digital form for a place in a hall of residence. Here you can. . .
... apply for a place in a dormitory (see below)
... search for a private accommodation service + Cause of the Corona-Situation, the private accomodation service is offline until further notice +
... scan hints for finding accommodation
Below you will find information on all the halls of residence. To apply, simply click on your residence of choice below and go to "Apply Here."
The Student Housing Department wishes you every success and a good start in your new city.